One of OPM's readers recently asked for some tips on riding with pillions, so this one is for you Chris.
The word pillion is the English term for a motorcycle passenger, and comes from the Scottish Gaelic word, "pillean", meaning little rug. It referred to a rug or animal pelt placed behind the saddle on a horse to allow the carrying of a passenger, and was carried over from the hoof and hide horse to the iron horse. I am often asked why both pillion and passenger are used when referring to motorcycles, and here's my understanding of the difference, a pillion sits behind the rider, but a passenger is carried in a sidecar.
In NSW where I live there are specific rules relating to the carrying of pillions;
Any passenger carried on a motorcycle (not in a sidecar) must:
• Sit astride the motorcycle pillion seat facing forward.
• Keep both feet on the footrests designed for use by the pillion passenger.
• Wear a correctly fitted and securely fastened approved motorcycle helmet.
• Be eight years of age or older.
• Not interfere with the riders control of the motorcycle.
A motorcycle rider must not ride with more than one passenger (excluding sidecar passengers) on the motorcycle.
And also rules applying to sidecar passengers;
Passengers carried in a sidecar must:
• Wear a correctly fitted and securely fastened approved motorcycle helmet.
• Remain safely seated.
The motorcycle rider must not ride with more passengers than the sidecar is designed to carry.
Children under eight are allowed to travel in a sidecar.
Before you carry passengers you must have held a motorcycle rider licence for at least 12 months (not including a learner rider licence).
Learner and Provisional P1 riders cannot carry passengers.
Like many motorcycle subjects there seems to be fairly polarised opinions around carrying pillions. Many people just don't do it, and if you ride a sports bike, I can well understand why you would want to avoid it, but many others believe that the joys of motorcycling are much better when shared with someone you love, or at least someone who you are happy to have sitting very close to you for extended periods of time. So the bike you ride will make a huge difference to riding with a pillion, both to the experience of the rider, and the pillion, and if you still want your pillion to talk to you when you arrive at your destination, you best consider their comfort.
Rather than trying to reinvent the wheel, I have taken the following tips for riding with pillions from the Motorcycle Council of NSW website. If you haven't checked out their site, it is a great resource.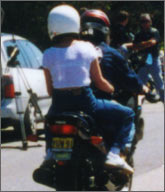 Pillion passengers represent only about 6% of motorcycle casualties, but their injuries are likely to be severe.Compared to licensed riders, unlicensed riders are twice as likely to be carrying a pillion passenger when they crash (6% vs 11%). These crashes are also more likely to be associated with alcohol (28%).In the MCC survey of motorcyclists (
de Rome et al, 2002
), only 19% of riders said that they regularly carried a pillion passenger, 56% said occasionally and 23% said they never carried a pillion. Riders were also asked about the protective gear normally worn by them and their pillions. The results showed that pillions and riders were likely to have similar protection to the upper body in terms of jackets and helmets, but pillions were less likely to have motorcycle boots, gloves or pants or any sort of body armour. See graph
Protective clothing
.As occasional passengers, it is perhaps not surprising that pillions are often less likely to have adequate protective clothing, but it is a serious safety problem.Riders need to be aware of their responsibility in relation to their pillion passengers.
Insist on adequate protective clothing for your pillion
Be aware of the changed handling characteristics of your motorcycle when carrying a pillion
Review your own riding attitudes and skills.
The difference a pillion makes
Lower ground clearance in cornering
Changed braking feel and performance
Different suspension and steering movements.
Smoothness required in gear changing, braking and cornering.
Suspension and tyre pressures need adjustment to compensate for the additional weight and to return the ride height.
Pillions who are not experienced may cause problems for the rider shifting their weight unexpectedly.
A pillion may crowd the rider on some motorcycles. This can be awkward under heavy braking and in slow speed manoeuvring. On a short wheelbase machine, the weight shift to the rear can result in some steering instability under certain circumstances.
Instructions for pillions
Align your body with that of the rider
Grip the grabrail, or hold the rider at the waist and grip with your knees under braking
Pick a shoulder to look over and don't change shoulder or wriggle about when cornering or braking, although this is fine at other times.
Stay quite still as the motorcycle is coming to a stop, to aid the rider's ability to feel the balance of the machine.
Keep your feet on the footpegs at all times.
Instructions for riders
Prepare your motorcycle correctly
Know how to adjust it
Know your cold tyre pressures
Take care of your pillion
They trust you, don't let them down
So I hope those tips prove helpful, but keep in mind, becoming a good pillion, like becoming a good rider, can take time. Make sure your pillion understands what you need them to do, be considerate of their comfort, safety, and the fact that they may be very new to motorcycle riding, and always remember to ride to the conditions.
Follow those rules and you might find that your pillion starts to love motorcycling as much as you, and to my mind there can be no better outcome.
And if you're wondering who the best pillion in Australia is, I'm married to her!
The Perpetual Motorcyclist
© Observations of a Perpetual Motorcyclist, 2012 – 2013. Unauthorized use and/or duplication of this material without express and written permission from this blog's author and/or owner is strictly prohibited. Excerpts and links may be used, provided that full and clear credit is given to Observations of a Perpetual Motorcyclist with appropriate and specific direction to the original content.